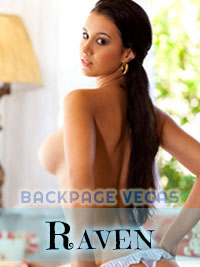 Age: 22
Measurement: B-Cup
Hair: Dark Brown
Height: 5ft 6in
Weight: 125 lbs
Ethnicity: Spanish
Let Me Show You The World
Hello there! My name is Raven, and just like the bird, I like fluttering around taking in all the sights around me as others revel in my beauty. I love attention and I want to share good times with you. Where we go and what we do is totally up to you. When you call, give the receptionist a head's up if I need to pack any specific clothing types so I'm prepared for whatever comes our way.

If you are unsure about where to go while in Las Vegas, allow me to lead you in the right direction. I have my favorite restaurants on speed-dial and we can always get a reservation the second I arrive to start our date. If you are interested in playing your hand at some cards or trying some slots, I have my own lucky tables and machines where my clients have hit it big in the past. I may just happen to be good luck!
I Want To Please You
My ultimate goal is to make sure you enjoy our time together. Whether we go out or stay in, I want you to be happy. This will happen if you are able to tell me what it is you are hoping to accomplish with our date. If you are looking to go somewhere fun, I can make some recommendations according to the information you provide me regarding your likes and dislikes. If you would rather stay in for the evening and just want to have someone to talk to or to hold on to for a while, I can be that girl as well.
Pleasure comes in many forms when you have a date with an escort. You can enjoy the thrill of being the center of attention because you have a voluptuous woman like myself by yourself. You can enjoy the pleasing touch of a female if you don't normally have that in your daily encounters. You can have a private fun time with me that no one will know about, making it our little secret. You can watch me strip, speak to me about your problems, or just enjoy the companionship of another body nearby while you are in the area. The ultimate decision is yours. Share your desires with me an allow me to make them come true!