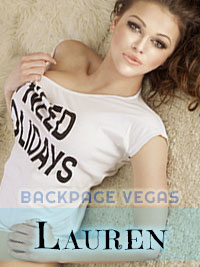 Age: 24
Measurements: 36C
Hair: Brunette
Height: 5ft 4in
Weight: 115 lbs
Ethnicity: Caucasian American
Let Me Show You Some Fun!
Hello guys and gals! My name is Lauren and I am one of the Las Vegas escorts on this page who will be happy to accompany either a man or a woman when out and about. Escorts are not just for gentlemen, and although I love going out with men, I also enjoy my time with other women. If you want to spend time with a woman as beautiful as yourself, give me a call and I will be ready and raring to go!

We can start off slow by hitting a lounge or two to have a few cocktails while we get to know each other. Afterwards, we can go out for a bite to eat if you wish. I know of some wonderful fancy restaurants that serve fine cuisine you will enjoy. Then, we can get busy having the real fun. I love to dance if you are into the nightclub scene. We will spend lots of time on the floor together getting all sweaty and having tons of fun!
Enjoying Each Other
I do enjoy some casino time if you want to do any gambling. Guys and girls alike will bring pretty escorts with them to casinos to help give them some luck. If you enjoy watching strippers, I am into that as well. There's nothing better than watching other women with beautiful bodies taking off their clothes. I really like watching that and I will be happy to share that experience with you.
The best part of the night though will be when we get out of the spotlight, away from prying eyes. I love the ends of my dates because it helps to relax me and it will do so for you as well. I am great at giving massages, I know reflexology if you want your feet rubbed a bit, and I give some of the best lap dances in the area if I do say so myself. The way we end our time together is totally up to you. If you would rather we talk and just snuggle a little, I'm up to that as well. I just want you to be happy! Call and ask for Lauren and we can make some plans together to make sure you have the time you deserve while in Las Vegas!